Ideas

Hi,
So I made a small python script like the previous one that keep track of you "bookmark/favorite" folders/path in the browser.
I keep my comics in a lot of folders and sub folders so with this addition is to easier to keep track of the series you are currently reading.
All the files can be found below.
I have divided the "themes" in 3 different variants.
Both the themes that have the bookmarks/favorites feature need the python script to work, i have only compiled it to an .exe for windows.
The original script is also included if you would like to compile it for any other OS, hope it works for other than windows.
The themes are not complete sins i don't fancy sending unnecessary files.
You will have to go into the admin GUI (for example http://192.168.X.X:2203/admin) and create a new theme.
Then you go your Ubooquity install directory and drop the 2 javascript files into your new theme folder that is in the "themes" folder, or your currently used theme if you haven't modified the "themeScript.js" file.
I have only modified the "themeScript.js" file of the theme and the jquery file is to shorten the code needed compared to write it in native javascript.
Here is an image of the admin GUI and where you need to make the new theme if needed.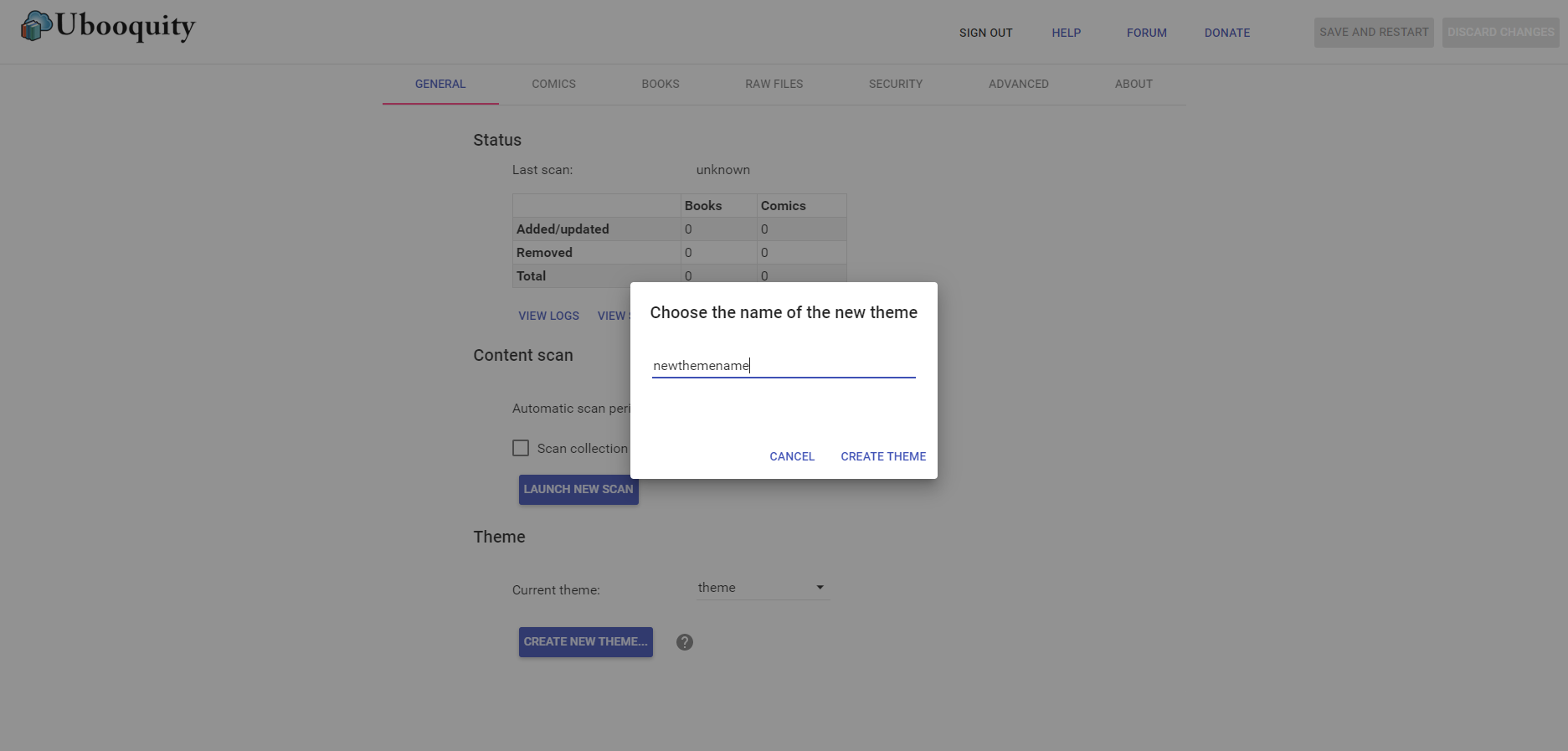 Hers is screenshoot of what the themes and python script/program adds: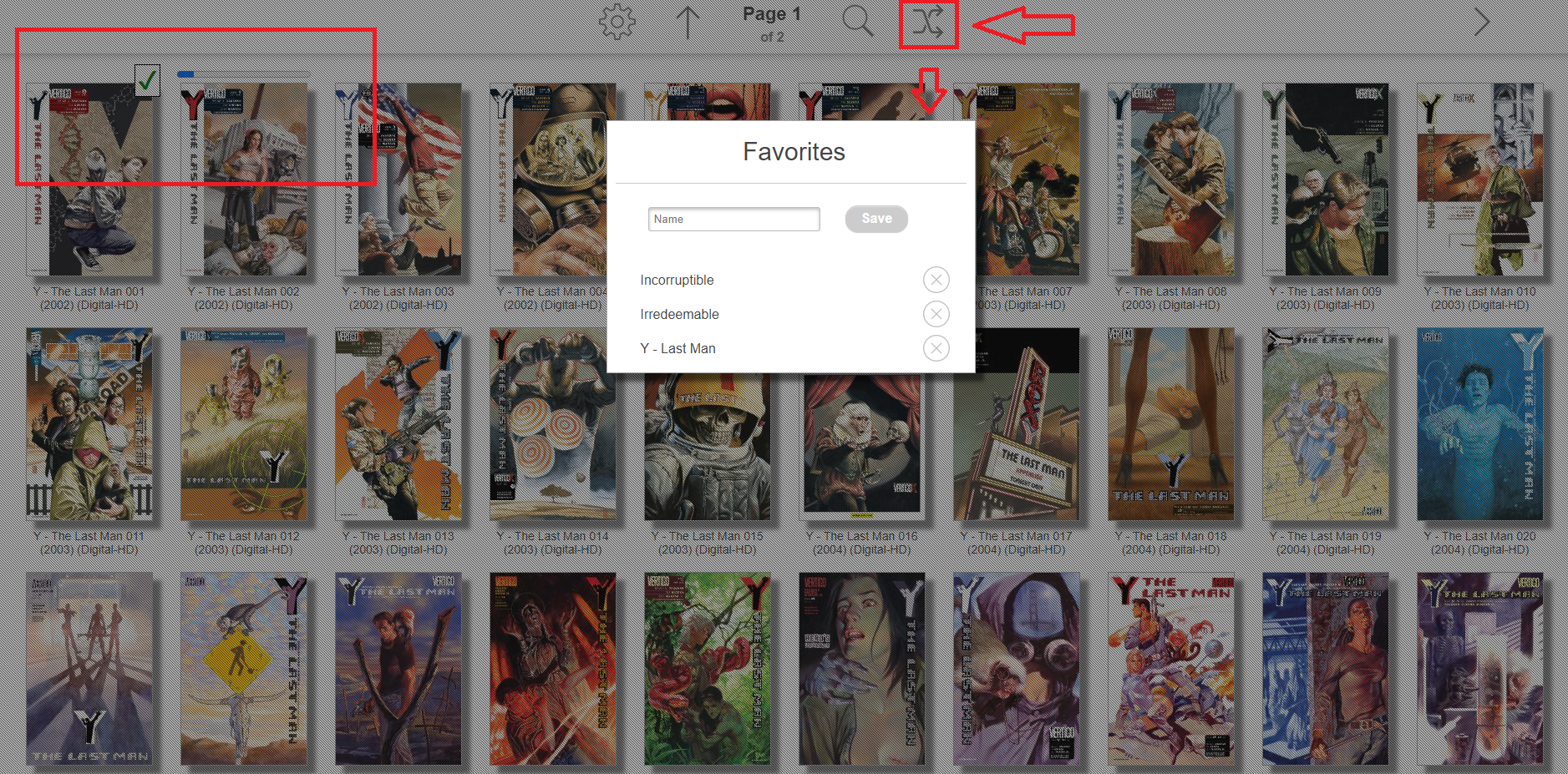 The readprogress (left part of the image) relies only on what the default Ubooquity provides and don't need any additional files, it loops through all the comics that is on the screen and asks the built in API how many pages there are and what your current page is and if it's above 0 it shows it accordingly.
The bookmarks/favorites script/program file (.exe) must be run on the same server/computer that runs the ubooquity sins browsers don't like mixing domains and I haven't invested time into looking if it could be run from another server/computer.
And the javascript in the theme tries to reach the bookmarks server at the same IP as you are browsing your comics.
The bookmarks/favorites script sends a request to the pythonfile at port 2204 (sins the default port is 2202 and 2203 i put it at 2204) and asks for any current paths for your bookmarks/favorites.
Then if you press the old "random" button you get the popup shown in the middle of the above image where you can input a name for your bookmark and it will send the name and current path in your browser to the pythonfile that saves it in the bookmarks.db database file.
So for example if you input "batman" and press save after you have browsed down to you batman folder it will send a request containing: name=batman, path=http://192.168.X.X:2202/comics/17821/folderCover (just an example) , and when you press the name of the bookmark again you can quickly navigate between your bookmarks.
Any theme maker and/or Tom may use the files/code if you like, it would be nice if you put my name and reference to this forum in the credits or something, ;)
Feel free to reply if you have any questions.
Readprogress only: http://s000.tinyupload.com/?file_id=03616343100468791259 , no need for the python .exe file
Pythonscript: http://s000.tinyupload.com/?file_id=07317340696167758222
Bookmarks/favories only: http://s000.tinyupload.com/?file_id=03504496794861024505
Bookmarks/favories and readprogress: http://s000.tinyupload.com/?file_id=00035228378135134176